The authors' contract battle goes global
2016: Crunch time for publishing, its writers and their readers
Dated today, 5th January, the Authors Guild's open letter to the Association of American Publishers leads the loudest call yet for contract reform in publishing's relations with authors.
This is a coordinated campaign being mounted by the world's key author-advocacy organisations.
The letter's signatories include the UK's Society of Authors, the Authors Licensing and Collecting Society (ALCS) and the Irish Writers Union, along with a host of more than two dozen writer-advocacy organisations from Europe, Africa, Australia, North America.
In the United Kingdom, the Society of Authors has simultaneously released its own letter to the Publishers Association (PA) and Independent Publishers Guild (IPG). My colleague at The Bookseller, Katherine Cowdrey, has a report with a comment from outgoing PA chief Richard Mollet.
In a note this morning, SoA chief Nicola Solomon writes:
The letter is part of an international collective call to action with authors' groups around the world to address the serious and urgent issue of contract terms in falling author earnings...We ask publishers to take responsibility for their role in authors' income by reviewing their contract terms and treatment of authors.
The SoA bases its effort around the tenets of the C.R.E.A.T.O.R. formulation, which names seven areas of concern including contractual clarity, fair remuneration, and what the Society calls "reversion terms that allow authors to make the most of their work."
For its part, The Guild's letter is easily as direct, if not more so, than the Society's. It reads, in part:
Unfair terms in publishing agreements negatively affect authors' incomes and even their ability to write at all. That's the conclusion the Authors Guild's Fair Contract Initiative has repeatedly demonstrated since it was launched in May 2015. Now it's time to act on that conclusion.
This new multi-national coalition among at least 26 author-advocacy associations may finally signal, in 2016, that eye-rolling is no longer an acceptable response to these demands for responsible business dealings with authors. The Guild:
We'll be asking for individual meetings in the coming months with publishers both large and small to discuss the substance of the attached articles and what publishers can do to ensure this business is fair and profitable for those who create the works that sustain it.
Under executive director Mary Rasenberger (pictured), now entering her second year of relentlessly focused leadership, the Guild is a changing one, and its formal opening of talks with publishers stands on a painstakingly built portfolio of whitepapers created for the Fair Contract Initiative.
While some authors in the US have harboured a lingering mistrust of the Guild based on what they see as a favouritism for "household name" bestsellers and on policies they dislike, Rasenberger has neither gone away nor backed down.
She and the Guild are pressing the authors' case in 2016 and we may finally have reached a point at which the industry must stop, turn around, and reconsider what authors and agents say are—quoting the Guild's letter—"draconian provisions" in their contracts.
Again from this new letter:
What we demand is simple: Publishers need to revise many of their standard contract terms to make them more equitable. Authors should get at least 50% of net ebook income, not a mere 25%. They should not have their hands tied with non-compete and option clauses that can make it impossible for them to write new books without delay. They should not be forced to accept royalties that can decline by 50% when the publisher cuts its wholesale price by a single cent. They should be able to get the rights back when the publisher stops supporting a book.
Many writers from our Bookseller/FutureBook Author Day assembly on 30th November would add that being paid only every six months is preposterous, particularly when Amazon long since began paying monthly. They'd also like, as the Guild's letter points out, royalty statements that are "transparent and comprehensive." And they'd like them on a timely basis.
Want to see a lot of eyes glaze over? Just ask folks in the business why and how the publishing establishment keeps staring back, sphinx-like, when such concerning, urgent workforce questions have been asked in the past. The industry's critics are not wrong: these questions would not easily go unanswered in other industries.
But publishing is peculiarly configured to have weathered fierce local opposition on this front so far.
On one hand, the corporate publishing companies provide for their own in-house workers, perhaps with low wages but with employment benefits and fairly standard contractual arrangements.
On the other hand, the creative source of the work that publishing produces is generated by a freelance workforce, engaged without employment benefits and in contracts built on antiquated conditions and clauses that make little sense now. Imagine the auto industry dependent on freelance designers for its new models, and you get an idea of how precarious this is.
What is changing in 2016 is the digital enablement of international, actionable cooperation.
The author-advocacy organisations now gathering into a unified lobbying force, may together amass enough weight to finally begin standing down the corporate world's legal departments. Public embarrassment on a planetary scale is hardly comfortable. And crassly put, the authors outnumber the publishers and they have the ears of their readers.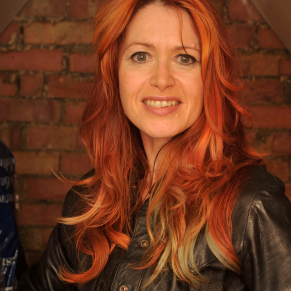 The author corps is not without occasional nuance on these points, however. London-based author Roz Morris (pictured), who teaches in The Guardian's programme, writes in a new blog post:
Producing the book is just the start. The problem is getting noticed and building a readership. This is why it's such a gamble to make a business out of an art, because no one can predict what will be successful. Thought of like that, it's not surprising that traditional publishers try to keep so much and spend so little. It's not evil; it's survival.
Morris, who joined us at Author Day, is a longtime corporate-publishing ghost writer and editor but a self-publishing literary novelist. Last year, she opened a candid discussion among indie authors about falling sales. Many writers are entering 2016 talking of writers giving up, leaving the field. Many notice that the arrival years ago of "indie bestsellers"—such prodigious producers as Bella Andre, Barbara Freethy, Tina Folsom, Hugh Howey, Jasinda and Jack Wilder and maybe 10 to 15 others—hasn't been followed by a fast-widenging pool of such opulent success for many more. One major self-publishing platform executive (who might be expected to tout indies' chances for big success) calls the claims of the Author Earnings reports "head scratching."
And in trade publishing, author contracts may be the last arena in which you can see the old silence of the trads in force—that unblinking gaze with which a once more stable industry looks back when asked hard questions. In 2016, "no comment" translates in the minds of many to "no contest."
In the Society's letter, Solomon (pictured)—a lead speaker at Author Day—writes with her associates:
Authors remain the only essential part of the creation of a book, and it is in everyone's interest to ensure that they can make a living.
In the publishing industry's bid for a sustainable future, it's hard to argue against the notion that attention must finally be paid to authors' stance in the business.

Publishing's need for new readership goes critical
Do you know the Cultivating Thought Author Series at Chipotle restaurants?
Danielle Moore in Denver, directing public relations and marketing for the company, tells me:
Over the years we've used our cups and bags as a way to share our sense of humor, thoughts, and ideas, in both words and design. The Cultivating Thought series continues this tradition, presenting the words and whimsy of thought-leaders, authors and comedians through unique essays, each illustrated by a different artist. We're hoping this will allow people to connect with the musings of these writers, with whom they may or may not be familiar, and create a moment of analog pause in a digital world, providing introspection or inspiration, and maybe a little laughter.
Typically ahead of the curve, HarperCollins' marketing chief Angela Tribelli was among the first to recognise the value of this opportunity. She worked to place high-visibility Harper authors Paulo Coelho, Neil Gaiman, Barbara Kingsolver, Amy Tan, and Carlos Ruiz Zafón in the programme.
Tribelli told me:
The Cultivating Thought program aligns perfectly with a key tenet of HarperCollins marketing strategy, which is to partner with premiere brands that both value our author content and provide large-scale platforms that reach receptive audiences. We were excited about the program from the beginning, as it was a great opportunity to expose HarperCollins authors to potential new fans, at precisely the moment when they have spare time to read. We reached out to Chipotle about including some of our authors, and they then put us in touch with Jonathan Safran Foer, who spearheaded the program.
With more than 1,900 locations in the US, UK, Germany, France, and Canada, Chipotle (see the illustration of text from Amy Tan) is operating at the scale publishing needs, in order to find the new readership it requires.
By some estimates, the US alone is producing more than 700,000 titles per year.
The UK's Super Thursday in October saw the number of trade hardbacks released onto the market in a single pre-Christmas day jump from just over 300 in 2014 to 400 in 2015, as my colleague Philip Jones reported at The Bookseller.
How do we expect the readership to handle this kind of overload?
Even as surveys and studies report more women traditionally buying and reading books than men, the industry has yet to mount a concerted effort to cultivate male readership. Are publishers and authors really content to leave so much money on the table?
Even as the maturing digital dynamic works its way fully into modern culture's ways and means—often led by the enticements and conveniences of its media-driven entertainment models—publishing looks for any chance to declare that digital is staggered and that print is "resurging." Can a resistance to going where the audience now lives be justified again this year?
And even as legitimate, professional independent authors claim they're blameless for the mountains of unreadable amateur efforts piled onto both their own and the trade's output, their own sales—at least those of writers willing to admit this—are being negatively impacted. There are too many books. Can casual dismissals of bad quality really cut it, in an age in which there simply are not enough readers to support all this?

Write a book? Great. Now create 10 new converts to reading
Perhaps 2016 is the year in which the Alliance of Independent Authors—which has almost half its membership in North America and which loves nothing more than a good campaign—would like to mount a new one.
Call it the "10-for-1 Campaign." Each author, for each title he or she produces, turns on 10 people to reading, 10 new readers, 10 people who have not made a habit of reading books in their lives, actual newcomers.
Perhaps the trade industry would like to join in, using its superior mainstream marketing muscle to deliver 20 new readers to the business for every new title released.
When do attitudes of entitlement—trade or indie—finally give way to the truth?
There are too many books. And there are not enough readers.
What better year to start coming to terms with this than 2016?
---
Main image - iStockphoto: Jerimias Quadil