'Our main responsibility is to our authors'
Telling us of "a ruthless focus on the journey from writing author to engaged reader," September Publishing founder Hannah MacDonald addressed the FutureBook 2015 Conference Friday (4th December). You may recall her article from our series, A manifesto for publishers: Rip up your schedules. (More manifesti to come, watch this space.) We're pleased today to bring you an edited version of the text of her conference statement, in which she again was emphatically aligned with the creative corps: "An author-centric publisher should seek new authors. Not just let a few through its heavy doors."—Porter Anderson
---
Our main responsibility is to our authors—very focusing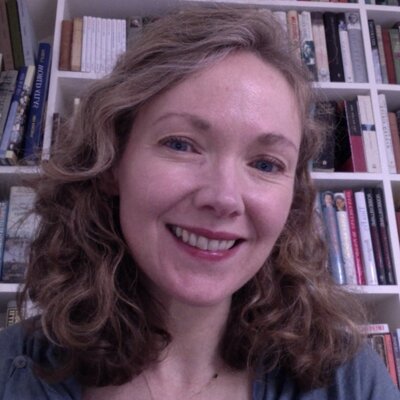 Author-centric publishing is a mindset, an attitude for all future-facing members of the publishing community. But more than that—it is a business model for relevant imprints or units, and even more than that a prism—or a decision, if you like—by which larger, multi-purpose publishers can update their approach and systems to develop authors, readers, awareness, channels and, of course, sales.
An author-centric publisher is not just about flowers and parties, updates and niceties. It is a ruthless focus on the journey from writing author to engaged reader.
I think this is a model which could force us to reconsider priorities, workflows and infrastructure.
Currently more and more attention is paid by the big publishers to 360-degree author support. Better information, better presentation of sales data and royalty summaries—as if giving them the data successfully was the climax of the experience. Not the beginning of the conversation.
Many authors now have portals to visit. Yet most of my authors tell me they prefer people to portals.
What I am going to discuss in next 10 minutes is a result of 20 years as an editor; a commissioner within Penguin Random House and Harper Collins; two years of thinking as resting-publisher; and a year of publishing independently. Also: several thousands of hours spent writing novels. Some of which have been published and some of which haven't.
In an industry whose product prices and product possibilities have decreased—in an industry assailed by competitors, whose technological operations are leagues ahead of ours and who talk and sell and share intimate choices daily at unimaginable speed with our consumers—it is surely sensible to look hard at the creative process they are chasing.
What are the particulars, the exact alchemy in which we continuously are outperforming the invasive competitors? And what we must improve to keep those competitors at bay?
'No wonder everyone wants in'
Well, it's all about the authors isn't it? It's not all down to our design, distribution or marketing skills, is it? It's authors who write the game-changing books. Who slave through three quiet novels to produce one that touches a chord with enough people to make a bestseller.
Authors who have hit their stride at an apposite moment, with a publisher who can help them capitalise it, can shape culture. They can become a part of a generation's collective consciousness, spawn movies, merchandise, change habits. Create wealth. Employment. Inspire. Change lives. On and on. No wonder everyone wants in...
An author-centric publisher takes what an author knows about the reader's interests and lives, and works it really, really hard.
Authors know more about how to appeal to their market than we traditionally give them time or credit for. Sometimes in the past it made sense to go with WHSmiths' choice of cover rather than the author's. I have been out of corporate publishing for nearly three years and I really hope it doesn't happen anymore. But I am fairly sure it does. I don't believe this is a logical bias anymore. Not in the current retail climate and buying patterns.
As an author-centric publisher, we put the journey from working author to engaged reader at the heart of everything we do. Not the journey from manuscript to shop floor or screen.
Obviously social media has a large part to play for September Publishing. We can communicate what our authors are writing about as they research it, as they walk and talk and chalk. We can gather followers before the book is published. We can find more through the authors' ongoing lifestyle long after it comes out.
But author-centric publishing goes much deeper. It's an opportunity to re-imagine our processes and systems.
How does an author-centric sales and distribution department look, for instance? Is it really a relevant model for a corporate with such complex stock/warehouse systems at play?
Operational efficiency is our bread and butter, surely that's the key. But what could be better than a logistics and distribution department that handles author events and appearances with all the minute efficiency that Amazon handles single-copy orders? More attention to making the systems work for the author who can sell books would only benefit the publisher.
Mark Thomas told me recently that when he signed a contract with us, he then told his mum about his fifth book deal.
"Lovely," she said. "Did they pay you a bit son?"
At which we laughed, because in truth September's advances aren't the draw. He said to her "No mum, not loads, but they pay me better royalties, give me a better discount on the books I sell, and are a good team to work with."
Mark's needs are specific. As are all authors' needs, if you actually ask them.
An author-centric publisher flexes and can recognise those authors who are writers, marketeer and retailers. We need to smarten-up here, otherwise this breed of particularly profitable writer will all end up self-publishing.
An author 'refused a retail account by her publisher'
One author told me that she was refused a retail account by her publisher. She didn't have the right retail credit background to be given an account. Unsurprisingly. Because she's not a physical shop, consequently she wasn't able to sell her own books at her own events she organised. So she bought the books from Amazon at a discount. Money lost for the publisher, of course.
But many of September's authors will never use social media. It's not the best use of their time, for many of them.
A friend, the author David Nicholls, had long ago told me of his love for an out-of-print memoir. The Perfect Stranger. We republished it with a supportive tribute from David in The Guardian in May. Patrick [Kavanagh] took some persuading that there was a market for the book now, and we wrote to each other, long proper letters as he didn't use email. Which is not that uncommon amongst older authors, frankly.
(Just as an aside here: an author-centric publisher allows an editor close knowledge of authors, to have greater impact on a publisher's workings. Every day in a million different ways, your team's/corporate/startup's editors will be finding out how best to communicate with their authors. This is not unlinked or unimportant when it comes to reaching the readers. Editors know more about marketing than you think.)
Anyway, in a letter in July, Patrick told me it was too late for him to become up-to-date and understand technology; too late for the future, he said. And he died in August, at 84, swiftly in the midst of work and life. "Too late for the future." Yet Patrick's book has sold more than any other on my list in ebook.
Future readers don't want to read what publishers reckon is literature of the future. They want to read and enjoy creations from authentic talent. A true voice. Not a manufactured one.
It's not about what publishers want to publish. It's about what authors and artists can create in the supported, quality-controlled, public statement of depth that is a book.
An author-centric imprint has small teams, deep long-term knowledge and an insistence on communications and post-publication monitoring, marketing and communications. In some way, there are author-centric teams around big-brand publishing around the world. Specific teams who focus on a specific creative—they shape themselves around the source.
Because an author-centric publisher is inventive. There are, after all, Authors Past, Authors Present & Authors Future. Reinvention, re-direction is an opportunity.
When it comes to past authors, out of print authors even dead authors, I would say don't be fooled by their silence.
Their works, re-presented as presses like Persephone and Pushkin and Vintage, show can reach new, receptive markets.
But as much of this conference will talk about, authors are in some cases their own publicists, platforms and retailers. Again it falls to an author-centric publisher to be responsive and canny in this situation. Patrick wasn't on Facebook, but the novelist David Nicholls, a truly current author who championed this reissue, was...
'A closed fortress'
An author-centric publisher is open to helping people become authors. It looks for authors, encourages under-represented voices. We all know that it makes commercial sense to focus on more than profit-making. I would like to see publishers engage better with the writing community—to actually turn up at the road shows—to be present alongside the arts council and Kobo and to encourage. Not present a closed fortress. How about re-prioritising the virtual submissions pile?—Not just stalking the self-published bestsellers list.
We need to appeal to the next generation of writers that this is something worth doing. With us.
In an era of noise and overwhelming choice, it's hard to hear anything except the most distinctive voice. And yet we are suffering from decades of publishing in which many of our new staff are vastly similar in background. how can we truly spot the most talented if we are only employing our staff from a narrow pool.
I read an article about Marianne Moore, the poet. Something struck me. One early poetry publisher made a comment which set her on her path—he rejected her poems, but as he did so he said, you are not there yet, but i understand what you are trying to get to.
To put it mildly, it is hard for an editor these days to write constructive rejection letters. Which doesn't help agents. And doesn't help the next generation of writers.
There ought to be someone who understands what every ambitiously talented writer is aiming for. Indies are helping spread the diversity of voices. But I would argue this is urgent. Commercially—how to reach vast markets that the publishing industry traditionally doesn't—and also ethically. Or those kids currently in primary school will relegate us to an industry of their past.
Publishing is a function, and we should safeguard our rights to publish multiple voices, speaking authentic truths, or we will find it is withered or removed for lack of use.
In short, an author-centric publisher should seek new authors. Not just let a few through its heavy doors.