'Are there too many literary agencies?'
The question with which I've headlined this post comes from literary agent Jonny Geller. More:
I believe that the lack of changes in our industry will leave many authors exposed. I would say this, wouldn't I? Well, I'm not actually criticising any one agent, or the notion of small agencies—but my industry as a whole.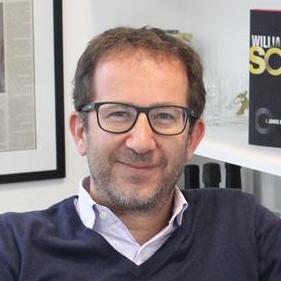 Geller is sounding the alarm as one of the most easily recognized and widely regarded literary agents on the London scene today. The joint c.e.o. of Curtis Brown, his client list is a stunner for its depth and sheer gravitas. Here are William Boyd, Susanna Clarke, the Ian Fleming estate, Carl Hiassen, David Mitchell, the Mandela estate, David Nicholls, Howard Jacobson, Adele Parks, and one of my personal favourites, John le Carré. And there are more.
In addition, Geller is among many authors' most respected agents for an opinion piece he posted here at The Bookseller in March 2012, An agent's manifesto. In that memorable essay -- published near the height of the independent-author movement's collective anger -- he used the unassailable fortress of his office (few agents might feel they can speak to the power of the industry this way) and took on not only publishers but also bookshops.
I'm exerpting here:
The author is not an object which a publisher has to step over in order to achieve a successful publication. If they [authors] have a problem with the cover, blurb, copy or format, then something isn't right.
And:
The author loves bookshops. Bookshops need to learn how to love authors again. We need to bring them back together.
And:
We publishing professionals are the ones who bear the risk—agents with time; publishers with investment; retailers with space. Authors risk only their whole life, self-esteem and their babies.
Such bold, compelling lines make Geller a guy you don't want to run at lightly. In fact, too head-on a tussle with this figure beloved both IRL and for his lively Twitter stream might get you a minor Dunkirk re-enactment on dry land, with many in publishing flocking eagerly to his defence.
And so it has been interesting to watch for reaction to his latest essay in The Bookseller's paywall-free blog section.
In Joined agency, Geller takes on his own kin, the many smaller literary agencies that bob along beside such mighty ships as the house of Curtis Brown. In this piece, Geller tells us: "All other sectors of the industry have consolidated in response to digital disruption—publishers, booksellers, wholesalers and public relations agencies—and yet there are still more than 300 agencies listed in The Writers' & Artists' Yearbook 2015."
Two paragraphs in, Geller already is answering his own opening question: Yes, he has determined, there are too many literary agencies.
Any business analyst must look at our sector and scratch their head. So many agents in small operations with no direct facility to sell foreign rights, film/TV rights or produce anything, and yet they still represent some of this country's most successful and popular writers?
What he's working up to may be more important than the technical fact of his pro-consolidation stance. Some of the reaction so far has tended to be snagged on that point.
For example, agent Ed Wilson of Johnson & Alcock writes in a tweet:
Some authors don't want to be part of a corporate/360 degree/content-generation machine.

They want good representation, pure and simple.
Wilson is joined on Twitter by another agent, who picks up on his comments.
Becky Thomas writes:
Insulting to authors to say they just want to be a big fish. Attention to rights/contracts/payments by their primary agent is to be valued. Not farming out admin to different overworked departments.
Indeed, the conventional wisdom among many authors has frequently been that a writer may well get more personal attention at a smaller agency than a large one. But this isn't universally agreed.
In Publishing contracts: Three key things to watch out for, author and game designer Dave Morris is closer in his thinking to Geller's::
My advice after thirty years in the business is sign with an agency of reasonable size. They have more contacts (increasingly essential to strike a good deal in modern publishing). And an agency can bring in experts as and when you need them, deploying resources unavailable to the Lincoln Lawyer agent.
As pointed out in our coverage here, Morris is referring, of course, to Mickey Haller, Michael Connelly's "Lincoln Lawyer" who works from his car, a Lincoln. And he goes on to make another point akin to Geller's about the widening array of potential ways to exploit a property profitably:
Increasingly, publishing deals draw on experience of other industries. Mine is in videogames, for example. Your agent won't know as much as you may do about those new fields. Be ready to act as their consultant as much as they are yours.
It might be expected that the Gellerian model is likelier to include specialists in "those new fields" than a small agency can have on hand.
A commenter on the piece who identifies her- or himself as "Secret Agent" chastises Geller and writes, "If smaller agencies were to follow JG's advice and do everyone a favour and, well, just . . . disappear, who is going to 'pick up the slack' and take on their clients?"
"JG" doesn't, for the record, actually seem to recommend that smaller agencies "do everyone a favour and, well, just...disappear."
And the most extensive resistance so far to Geller's viewpoint comes from Sheil Land Associates agent Piers Blofeld.
'A splendidly comic piece of understated menace'
Blofeld minces not one word in Disjointed agency, opening with a ripping flourish of disdain:
Jonny Geller's survey of the London literary agency scene is a splendidly comic piece of understated menace. Perhaps I am programmed to think this way, but it is hard not to imagine the man of destiny at the secret centre of his global empire as he sits back in his chair (one can almost hear him stroke his cat) and wonder – 'why is everyone so fucking stupid?'

He raises some interesting points which demonstrate that there is a wide range of ways of understanding what it is that a literary agent is. Crucially for me though he conflates the role of a talent agent and literary agent.
Blofeld does make the personal-attention pitch for the smaller, less widely engaged agency, and with some nuance:
While the business side is of crucial importance, the reason why there are so many big names out there with relatively small agencies is because their relationship with their agent is multi-dimensional and not easily replicated. At its best the author/agent relationship is a close and valuable creative relationship. Agents are sounding boards, creative confidants, story consultants, trusted first readers, editors, champions and finally negotiators and business partners. The business side is hugely important, but it is at the end of a long chain of collaboration – and value.
Blofeld takes the opportunity to hold the corporate feet of big agencies like Curtis Brown very near the flames in terms of contractual struggles with major publishing houses:
The most powerful agencies in this country have by no means done such a terrific job over the last 30 years. Royalty rates – in real terms – have declined sharply in that period. 2014 was, amongst other things, notable for widespread dismay at the fact that author earnings have declined so sharply in recent years. It is lost ground which it may take another generation to claw back.
And he sees in the Curtis Brown model something less about author representation and more about business brand-ism:
In the end, it really isn't about brands, it is a question of how well individual books work. Neither E L James' or J K Rowling's careers were hampered by being represented by small agencies. Content is queen – and you take it for granted at your peril.
A line drawn deeply in the sand
For all Blofeld's efforts to turn Jonny Geller's perspective agasint him, the call going out from Curtis Brown is at least loud enough to guarantee a serious bout of reconsideration among agents and their clients, and on both sides of the Atlantic.
The time is right for this debate. A new chapter of disruption has arrived.
What Geller is talking about is what he terms "joining forces" and "coming together." This is exemplified by the reconfiguration of Curtis Brown's own approach, under Geller's leadership -- he is speaking from experience, not in theory:
At Curtis Brown, we have developed a successful agency-run creative writing course, a book group, a digital publishing facility and a television and film production company (Cuba Pictures).
And in bringing in-house many of the services and relationships that formerly lay outside an agency's walls, Geller sees a gain for clients in range, scope, selection, and sheer efficency in exploiting a property's rights as many was as possible. He writes:
Packaging brings greater control and artistic freedom to the author from the moment of inception. Susanna Clarke was therefore able to license the rights that she was comfortable with and have a greater say in the selection of collaborators for the adaptation of Jonathan Strange and Mr Norrell in her deal with Cuba Pictures than in her preceding deal, with production company Studio. ("Jonathan Strange and Mr Norrell" will be broadcast over seven hours on BBC1, this spring).
Do agents labour under a 'fear of participation'?
Underlying these points of demonstrated inter-media productivity lies Geller's deeper, richer point:
Where I think our industry falls down is the fear of participation. We need to be part of the deal, not just negotiating it. We need to be in partnership with the talent we believe in and create opportunities in every media for them. This is not simply being on their side when we broker the complex relationships with publisher and producer, but driving the deal as a partner, a stakeholder in our clients' success. There are many ways to structure a deal and many ways of being a literary agent.
Here is the really intriguing part of the evolution of how the agent's role is perceived and tested, a transition already years under way.
Experimentation and adaptation in agenting have become increasingly frequent, of course. From "agency-assisted self-publishing" in a case like Kristin Nelson's Denver-based NLA Digital at Nelson Literary to Curtis Brown's theater, film, and TV production wing (in development since 1997), the shapes of various models can vary greatly.
In the most general terms, a key way to evaluate one approach or another is to ask where the publishing rights lie. Are they signed over to an agency by an author? If so, say many obserers, then the relationship of client and advocate has been crossed. Others place the key criterion on the commission: More than a standard rate for standard services, say critics, and the agency has become something else.
Most point to the basic mechanism as that of an agency's advocacy stance: As soon as an agent can potentially value any function more than client-advocacy, these observers say, then something has shifted and agenting is no longer what it was.
Interesting models are in place both in the States and in the UK.
In the case of Diversion Books in New York, agent Scott Waxman, who joined us in November at The FutureBook Conference, has set up a digital-first publishing house that stands and operates independently of his agency.
Officials of London agent Ed Victor's Bedford Square Books, on the other hand, have told me for previous coverage that their programme does obtain publishing rights to its authors' books.
But the company says it will unstintingly return those rights to an author who asks to end the association.
Two years ago this week, the agent Andrew Lownie launched his Thistle Publishing, overseen by David Haviland, with a statement that read, in part:
The Andrew Lownie Literary Agency has become the latest to set up an in-house digital and p.o.d. publishing imprint. The Thistle imprint will use Amazon publishing programme White Glove to release e-books and print-on-demand copies of titles where the e-book rights are not controlled by a publisher. Lownie said publishers risked being "left behind" by the higher royalty rates authors can command through the Amazon programme, and that the move was also a reaction to publishers commissioning fewer titles.
And while the public and many in publishing may not have been fully aware of these and many other efforts and permutations of new arrangements, the agents' community has been discussing such moves at length.
At the time of Thistle's launch in 2013, for example, Lownie quoted Geller, as saying "his agency was pleased with early sales through its digital self-publishing programme, Curtis Brown Creative, launched via Kindle Direct Publishing and CreateSpace in December last year. He said the agency had already seen strong sales, with Alex Gerlis' debut novel The Best of Our Spies selling 4,000 copies in January."
Are we in a post-conflict era now?
Amid Geller's more controversial comments:
Some old-school agents have traditionally relied on the following factors to keep their clients:

● Fear. Authors have grown up with their agent and don't know what else is out there, which leads to . . .
● Loyalty. If I sold X thousand copies with this agent, why fix what ain't broke? It is better to be a . . .
● Big fish in a small pond than to be swallowed up by the large ocean of a big agency (besides, my agent is godmother to my child).

Exactly the wrong reasons to have an agent.
And to the point with which many in the business have wrestled, potential conflicts of interest, Geller gives little time:
Putting aside any quandaries about conflict of interest—there is rarely a conflict if the deal is fair and advantageous to the creator—our clients are more vulnerable if we can only sell them a set of relationships and industry practice. They need to be at the heart of production.
Here, Blofeld is especially pointed, sounding the alarm on the "dangerous territory indeed" of ethical considerations he sees in play:
Those "conflicts of interest" are called that for a reason. It's all very well saying that "there is rarely a conflict if the deal is fair and advantageous to the creator" but if the deal is more fair and more advantageous to others then there is a conflict of interest. Agents exist solely to protect the interests of their clients. The danger of the management route is that it opens up the possibility that the interests of the agency might be perceived as superceding the interests of authors. That is dangerous territory indeed.
So the questions here involve what is best for a new form of "networked" author's career, if you will, as it develops its potential to cross media boundaries and platforms and thus demands an increasingly sophisticated range of service capability in the representation sector.
If, as Dave Morris has said, the author wants "a consigliere, not a manager," then the counselor is surely being asked to be jack (or jill) of a great many trades.
Geller writes:
Fundamentally, the landscape of hundreds of small operations is not efficient for the author. For example, an agency with direct access to screenwriters, directors and actors can "package" a project for a broadcaster/studio.
Where does the agent's responsibility lie when it comes to growth and development of the agency's position in the community today?
Geller has made his position clear:
We agents need to join forces to build the next generation of talent in this country. The authors deserve nothing less.
---
Join us Fridays for our live #FutureChat with The FutureBook digital community at 4 p.m. London (GMT), 5 p.m. Rome, 11 a.m. New York, 8 a.m. Los Angeles.
Main image - Shutterstock: Nicolas Raymond